The 2023 Subaru Forester VS 2023 Subaru Outback
When shopping for a Subaru, there are a lot of aspects to consider, from vehicle model, trim level, optional accessories or upgrades, and even color. All of these factors go into making the perfect vehicle for you so that each car that rolls off the lot has a custom element to fit its driver. To aid in this vehicle selection process, let us examine the differences between the 2023 models of the Forester and Outback.
Performance and Specs
Both of these fun crossover SUVs offer a lot in performance and functionality. They offer a base ground clearance of 8.7 inches, allowing for some fairly adventurous off-roading. There is also an Outback Wilderness and Forester Wilderness that are designed for trail running and those who enjoy forging their own path.
The Forester and Outback are each equipped with a 2.5 Liter engine that works with the standard all-wheel drive to provide a seamless ride. As for fuel economy, both vehicles will achieve 26 mpg in the city and 33 on the highway thanks to their efficient engines and design. The Wilderness trim on both vehicles and the turbocharged Outback will lose some of this fuel efficiency, but the power and terrain management are more than compensated for.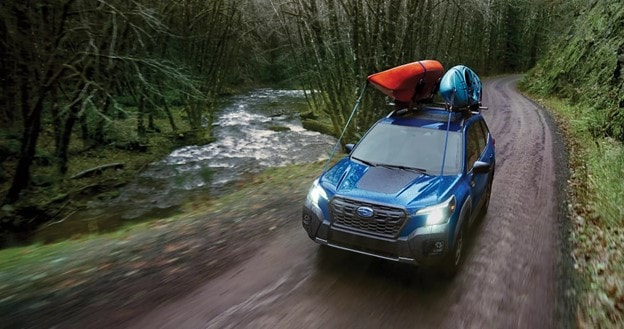 Interior Design and Features
The Outback typically comes with a higher cost, but that is because it has a larger option package and more available luxury features. For instance, the Outback comes available with leather-trimmed upholstery on the passenger seats and the front seats can be ventilated.
The Outback also features an available 11.6-inch infotainment display, as opposed to the 8-inch one available on the Forester. This display can connect to both Apple CarPlay and Android Auto instantaneously so that you can stay in touch while on the road.
Either vehicle you choose is a surefire top safety pick, as the Subaru family of vehicles gets top grades each year when judged by industry experts, especially the Outback. Both Forester and Outback come equipped with Subaru's patented Eyesight Driver Assistance technology. This system includes automatic emergency braking, adaptive cruise control, and lane keep assist, all as standard features. The higher-level trims of the Outback also come with blind-spot monitoring and cross-traffic alerts, which are not included in the 2023 Subaru Forester's optional features.
Which is Right for You?
Whether you are looking for a Subaru Forester or Subaru Outback in Joliet, IL, Hawk Subaru is the place to be. We recommend taking advantage of a test drive so that you can get the steering wheel in your hands and truly experience both vehicles for yourself. You will be able to view our entire collection of Subaru Outbacks for sale, and our sales team will be happy to show you everything from the brakes to the roof rails.